Dropvine makes it easy to send links to one or more friends in just a few seconds.
Use the bookmarklet to quickly forward a link to Dropvine with a single click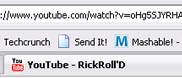 Select one or more of the friends on your contact list (they don't need to sign up first) and hit send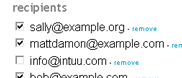 The link arrives in their Dropvine inbox as well as their email inbox.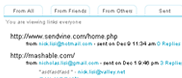 Some cool stuff about Dropvine
You don't need to wait for friends to sign up

Dropvine stores your links like an inbox

Dropvine allows for commenting on links so your friends can be sure to pass along their thanks for your rick-roll
Sign Up!